The big moon all night is not helping, but the temp was cool enough thought I would jump into the woods this morning.
I have been out to the State property this year so figured it might be a good pace to take a morning walk in the woods. It is suppose to reach the mid 80's today so I am pretty much limited to early morning. If I have not pulled the trigger by 8 in the morning I am headed out.
Another thing that really concerns me is 'FIRE' after fighting wildland fires for so many years I really am not in the mood to start one. It is extremely dry here and there are and have been several fires in the area. I would hate to see one get started in this area. The State has logged it a couple of time but they leave a lot slash on the ground. If this area ever gets started in this dry fall it will be an impressive burn.
Each time I go into the woods on these early morning falll hunts the first thing I am looking for 'humidity recovery', if I am not getting wet toes on my boots as I walk in - it worrys me much - so I just turn around and come right back out. This morning there was decent recovery, not as good as I hoped but good enough to protect me until the sun can dry it out.
Anyway this chunk of State borders cultivated private property all the way around and hopefully and normally you might catch the elk crossing back from the farm field to the 'Thermal Cover' of the tick stand of timber remaining in the souteast corner of the State property...
This picture shows the perviously logged area and the ridge I hope to catch them crossing...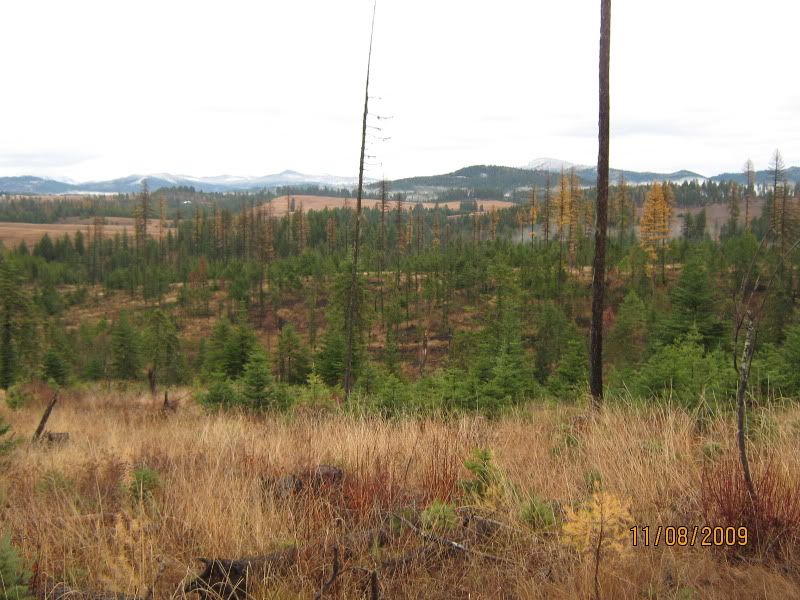 This one shows the edge of the 'Thermal Cover'
Sadly nothing but whitetail this morning - quite a few of them but no elk...
Gotta wait for another day and another trip - guess that is why they call it 'hunting' instead of shooting!!!